When there is only rain in the seven-day forecast and pumpkin spiced everything in the grocery store you know fall is really here. For those who have children with food allergies, the start of fall means one thing – Halloween is around the corner.
What kid does not love getting hordes of free candy from strangers? The kids who cannot eat it.
Food Allergies
Food allergies are quite common. Researchers estimate that up to 15 million Americans have food allergies, including 5.9 million children under age 18. That's 1 in 13 children.
While any food has the potential to cause an allergic reaction, there are eight foods that account for almost 90 percent of all food allergies:
Peanuts
Tree Nuts
Milk
Eggs
Soy
Wheat
Fish
Shellfish
While fish and shellfish are less likely to be snuck into a Halloween treat, at least one allergen from the list can be found in most popular candy.
Allergen-Free Halloween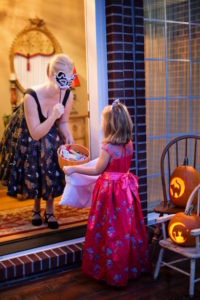 So, what do you do about it? Your Portland allergist has a few suggestions.
Let your child go out trick-or-treating with their friends with strict instructions not to eat any of the candy they get. Once home, simply trade their bag full of candy (you can either eat it yourself or donate it a charity of your choice with safe candy you already purchased. Candy can also be traded for a non-food item like a book or toy.
Before your child goes out trick-or-treating, stop by the neighbors' houses and give them some allergen-safe candy. Then, when you arrive with your child the friendly and understanding neighbor can give them candy they can actually eat!
The Teal Pumpkin Project
FARE's Teal Pumpkin Project is a worldwide movement to create a safer, happier Halloween for all kids. Last year, almost 18,000 households from all 50 states participated. 
The project is simple – participants purchase non-food treats and let everyone know their house is safe for those with food allergies by putting out a teal pumpkin on their doorstep. This helps promote inclusion for trick-or-treaters with food allergies or other conditions.
The website has signs you can print out which explain the meaning of the teal pumpkin as well as guides on how to get started.
There are plenty of options to make this the safest Halloween yet. For more information, contact your Portland allergist today.