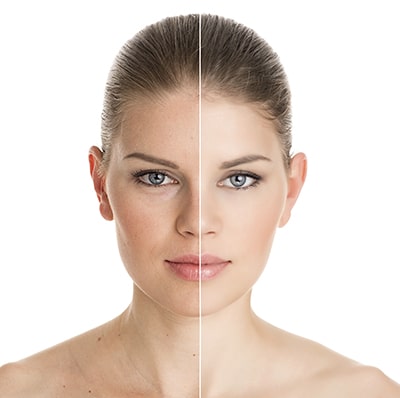 Elective facial surgeries are an increasingly popular way for patients to smooth and fill in wrinkles, shore up sagging skin and reduce the visible signs of aging. In the past, there were only surgical procedures available to tighten the skin. Nowadays, the focus is more preventative in nature, with many patients opting for non-surgical treatment involving injectables and fillers.
Botox
Botox is a prescription drug made from the Clostridium botulinum bacterium that is used to temporarily paralyze muscle activity. According to statistics from the American Society of Plastic Surgeons, botulinum toxin injections are the most popular minimally invasive cosmetic procedure available. In fact, last year, Americans underwent more than seven million Botox treatments.
What Does Botox Do?
Botox injections are primarily used to reduce the appearance of facial wrinkles by blocking signals from your nerves to your muscles, preventing them from contracting. This causes the wrinkles to relax and soften. Botox is most useful in treating:
Frown lines between your eyebrows
Crow's feet, which are the lines that extend from the corners of your eyes
Forehead furrows
How Is Botox Performed?
Administering Botox injections takes just a few minutes and doesn't require anesthesia. A numbing medication or cream can be applied to the skin beforehand, if you're worried about discomfort. Your doctor will use a thin needle to inject a small dose of Botox into your skin or specific muscles.
Results usually take a few days to appear and will last anywhere from three to 12 months. Maintenance injections are needed if you wish to continue treatment beyond the initial dose.
Some temporary bruising at the injection site is common but beyond that, side effects are rare. They may include headaches, drooping eyelids and a crooked smile. In rare cases the botulinum toxin may spread to other parts of the body and cause problems.
Contact a medical professional right away if you experience muscle weakness, vision problems, trouble speaking or swallowing, breathing difficulties or loss of bladder control.
Botox can be dangerous if administered improperly, so be sure to choose a skilled and certified doctor who is experienced with Botox injections.
Injectable Facial Rejuvenation
injectable facial rejuvenation uses substances that fill in lines and creases and add volume to facial features. They can be used to plump up cheeks and lips, soften facial features and reduce saggy skin. Often, they are used in conjunction with other skin treatment procedures.
Types of Fillers
A variety of substances are used as wrinkle fillers. All are absorbed by the body over time, which means repeated injections are necessary to maintain results. These include:
A natural protein that is found in the skin and tissues.
Hyaluronic acid. A natural lubricating gel the body produces to plump the skin.
Calcium hydroxylapatite. A mineral found in bone; it is biodegradable and implanted as a gel.
Poly-L-lactic acid. A synthetic material made from alpha-hydroxy acid that has been used in medical procedures involving dissolvable stitches and bone screws.
Human fat.
In addition, a permanent filler that isn't absorbed by the body, polymethylmethacrylate beads – small, round plastic particles that are biodegradable – are sometimes used. The type of filler chosen varies based on your needs and your doctor's recommendations.
Injection Procedure
Injectable facial rejuvenation treatment is a quick outpatient procedure performed in a doctor's office with either a local or topical anesthesia. Results are immediate and will last from four months to a year.
Possible side effects and risks include:
Infection
Bruising
Swelling
Redness
Pain
Tenderness
Numbness
Itching and rash
Skin nodules
Abscesses
Open sores
Blurred vision
Flu-like symptoms
Allergic reactions
Most of these are temporary and disappear within a week; in rare cases, long-term side effects may occur.
Juvederm
Juvederm is an injectable gel filler used to smooth away wrinkles around the mouth and nose and soften deep folds in the face. This hyaluronic acid (HA) based filler is used to reduce nasolabial folds (often referred to as "smile lines"), add volume to the lips and skin and fill in facial scars.
Juvederm is produced using a unique technology called Hylacross™, a cross-linking process that chemically binds the acid chains together to change them into a smooth gel structure that lasts up to one year with a single treatment – the only FDA-approved filler designed to be that long-lasting.
Juvederm is administered with a thin needle under your skin. Hyaluronic acid, which occurs naturally in the body but diminishes as we age, is immediately restored, adding volume and reducing lines, folds and wrinkles. Results are instantaneous.
The treatment is safe and effective, with few side effects. You may experience bruising, numbness, tenderness and redness, though these are temporary and should disappear within a few days. Serious complications such as facial bumps may occur, though these are extremely rare. Patients with severe allergies should refrain from seeking treatment.
Juvéderm XC
Juvéderm is typically used for treating nasolabial folds ("smile lines"), mouth corner lines, marionette lines and vertical lip lines; adding volume to lips and filling in hollow areas and facial scars. With optimal treatment, you can expect to see the effects of your Juvéderm treatment last up to a year.
Like all cosmetic injectables, it's vital for your Juvéderm XC procedure to be done by an experienced aesthetic physician. Poorly administered shots can cause unsatisfactory results, including negatively impacting your appearance or causing the procedure to fade quickly. Like all injectable fillers, Juvéderm XC eventually absorbs into your body, returning your face's volume to normal levels.
Juvéderm Voluma XC
Wrinkles may not be your only age-related cosmetic concern. Many patients lose the youthful volume in their face, causing sagging skin and an older appearance to take hold. Juvéderm Voluma is a new and completely unique filler designed to add the youthful volume back into your cheeks. It fills and lifts the skin around your cheekbones, providing natural contour and volume.
Juvéderm Voluma XC must be properly and carefully injected by a knowledgeable cosmetic doctor. It's the only cheek-filling injectable available, and your aesthetic physician will help you understand if this procedure is right for you. With top-notch application, the treatment's effects can last for up to two years.
Liquid Facelift
A liquid facelift is a procedure in which injectable skin fillers are used to lift and contour facial features. It reduces wrinkles, creases, folds and sagging skin and creates a smoother, younger looking face. It is often performed in conjunction with Botox treatment.
A liquid facelift isn't a true facelift. Unlike a surgical procedure, the results are temporary, lasting six months to a year. A true facelift relies on surgery to reposition facial tissues and tighten the skin, while a liquid facelift is a short-term solution for hiding the effects of aging. Still, it has its benefits; patients with limited resources, no time for an extended recovery period or needing results in a hurry can benefit from a liquid facelift.
Surgical facelifts require a steeper initial investment (though over time, because a liquid facelift is a short-term solution, the cost can easily exceed that of a true facelift). There is a greater risk of side effects or complications from a surgical facelift, as well.
A liquid facelift adds volume to the face and contour to certain features. It will benefit those seeking to:
Correct bags and dark circles under the eyes
Widen the eyes and lift the lids
Lift and diminish the jowls
Plump up the cheeks and temples
Lift the corners of the mouth to reshape the smile
Hide bumps on the nose
A variety of synthetic and natural dermal fillers are used in a liquid facelift procedure. These may include Juvederm, Sculptra, Radiesse, Restylane, Perlane and others. Botox and Dysport, injections that utilize minute amounts of botulinum toxins to temporarily paralyze muscle, are often used simultaneously to provide added lift. This can translate to longer-lasting results.
Not only is the procedure safe, it is also incredibly popular. Still, no procedure is completely without risk. Possible side effects of a liquid facelift include bruising, swelling, pain, numbness, redness, itching, rash and tenderness.
Some patients experience allergic reactions, skin nodules, wounds or abscesses, blurred vision or flu-like symptoms. Most of these are short-lived, clearing up within a week, though in rare cases the effects may be long-term.
Restylane
Restylane is a hyaluronic acid (HA) based injectable filler used to treat facial wrinkles and folds and add fullness to your lips. The clear gel adds volume and fullness to your skin, smoothing out moderate to severe wrinkles and folds. This was the first HA filler to be approved by the FDA and has a long and proven safety record.
Restylane is effective at reducing aging lines on the face including the nasolabial folds that stretch from the nose to the corner of the mouth; melomental folds in the mouth corners, crow's feet, forehead wrinkles and orbital troughs around the eyes.
Treatment with Restylane usually lasts 6-12 months depending on the patient's lifestyle, age and skin type. Afterward, follow-up treatments can be given on a regular basis.
Side effects are mild. There is the possibility of temporary bruising at the injection site as well as some swelling, numbness, redness and tenderness, but these usually dissipate after a few days. In rare instances, small bumps may appear on the skin. Those with skin conditions such as sores, acne, rashes, hives, cysts or cold sores should delay treatment until healed, as injections might delay healing or worsen the condition.
Restylane-L
The only difference between Restylane and Restylane-L is that the latter contains a small amount of lidocaine to reduce pain around the injection site. Both products offer immediate effects that last an average of six months or longer before breaking down naturally. Restylane and Restylane-L are designed to:
Add volume and fullness to the skin.
Correct moderate to severe facial wrinkles and folds around the nose, mouth, cheeks and chin.
Add fullness and definition to the lips.
Restylane Silk
This brand new treatment is designed specifically for lip enhancement. The particles contained in the ultrafine needlepoint injection are even smaller and smoother than regular Restylane. Restylane Silk is perfect for enhancing lips by making them fuller and more natural while reducing the wrinkles associated with age. In one study, nearly 60 percent of patients still maintained their increased lip fullness six months after receiving the injection.
Perlane
Perlane is an FDA-approved injectable filler designed to correct moderate to severe facial folds and wrinkles. It is a clear gel formulated with hyaluronic acid (HA) similar to Restylane, but contains larger particles that are injected deeper into the skin, making it a better choice for more severe facial wrinkles.
Perlane is a safe and effective treatment for smoothing out nasolabial folds and other facial lines. It also works well for deeper facial folds and wrinkles, facial depressions, hollows around the eyes, forehead lines and facial scarring.
Results of treatment are immediate, with up to 75 percent of patients reporting maintained skin improvement six months later, according to a series of clinical studies. Follow-up treatments may be given afterward for patients who wish to maintain a youthful appearance.
As with other injectable dermal fillers, some mild side effects can be expected including bruising, redness, swelling, tenderness and pain. Complications such as skin bumps and lumps and broken capillaries are rare.
Call PDX ENT at (503) 222-3638 for more information or to schedule an appointment.