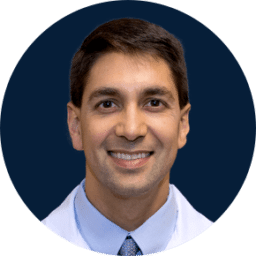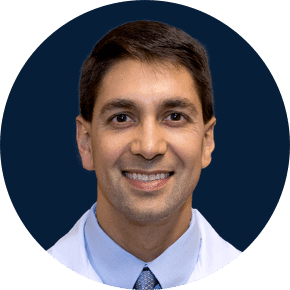 Dr. Patel grew up in a small Kentucky town before moving to the west coast during high school. He attended the University of California at Davis, where he double majored in neurobiology and psychology. He obtained his medical degree from the University of California at San Francisco. During his time at UCSF, he was able to complete a one year Howard Hughes Medical Institute research fellowship at New York University.
Dr. Patel completed his internship and residency training in Otolaryngology at the University of California at San Diego. In addition to this training program, he completed a year long National Institutes of Health-funded research project in tumor biology. Most recently, Dr. Patel spent a year in fellowship training in head and neck oncology and microvascular reconstructive surgery at Mayo Clinic Arizona in Scottsdale. During his residency and fellowship, Dr. Patel conducted research in tumor biology, treatment of head and neck cancer, head and neck reconstructive surgery and cancer treatment related hearing loss. Dr. Patel has been published in multiple peer-reviewed medical journals and has had the honor of speaking at symposiums including the International Conference on Head and Neck Cancer in Toronto, Canada.
Dr. Patel is Board certified in Otolaryngology – Head and Neck surgery. His practice specializes in the diagnosis and treatment of the full spectrum of ear, nose and throat disorders, the treatment of head and neck cancer and reconstructive surgery. Dr. Patel has experience with both traditional open and minimally-invasive procedures, including transoral laser microsurgery for head and neck cancer. He is also interested in the treatment of thyroid and endocrine disorders and in the prevention and treatment of skin cancers. He became a Fellow of the American College of Surgeons in the fall of 2017. Dr. Patel strives to provide the highest quality individualized care for his patients. In his free time, he enjoys spending time with his wife and sons, exercising, gourmet cooking and exploring the great outdoors of the Pacific Northwest.